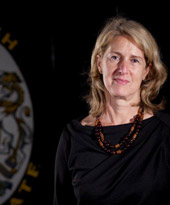 In the late 1890s HM Treasury gave the Office (later the Ministry) of Works money for the purchase of art for Government buildings in London. This was the origin of the Government Art Collection (GAC).
Today the GAC is responsible for acquiring and displaying works of art in over 400 British Government buildings in the UK and nearly every capital city in the world, promoting British art, history and culture nationally and worldwide. Number 10 is one such Government building.
Before the advent of the GAC, Prime Ministers were largely responsible for providing their own art for 10 Downing Street, including  Sir Robert Walpole, who hung a number of his own paintings in the building. Prime Ministers would then take their collections with them when they left the building and their office. Some of the works of art from the GAC in the building have direct connections with 10 Downing Street, including a portrait of Sir Robert Walpole himself, and of William Kent, the architect he employed to reconfigure the interior.
As might be expected, some of the Collection's strongest and more interesting works are on show at Number 10. These include a view of Whitehall from St James's by Hendrick Danckerts, a painting by John Constable of his niece and a portrait of Ada Lovelace, Lord Byron's remarkable daughter who assisted Charles Babbage with the early stages of the development of the computer.
Number 10 is not just a place of political business, it is also an opportunity to present world-class art to a wide ranging and international audience. A room on the first floor of Number 10 is dedicated to the display of contemporary art and is usually changed every six months. Currently drawings by Charles Avery, Pablo Bronstein and Richard Wilson and a sculpture by Goshka Macuga are on display here. It is also the location of More Passion, a neon piece by Tracey Emin.
When changes to the displays are required, usually because a work has been requested for loan to a public exhibition, either it's time for a new selection or the next contemporary display. In these instances, the GAC makes a proposal to an art working group made up of a range of staff from 10 Downing Street and the GAC for agreement and approval.