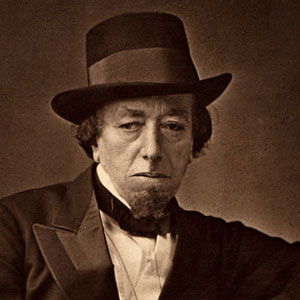 As Benjamin Disraeli's coffin was lowered into the ground on 26 April, 1881, the attention of the crowded mourners and reporters fixed on a simple primrose wreath amidst the mass of floral tributes left in the churchyard at Hughenden, Buckinghamshire. It had been sent by Queen Victoria, with a simple message attached: 'His favourite flowers'. In its quiet intimacy, this offering fittingly symbolised the unusual bond forged between sovereign and Prime Minister during Disraeli's two terms in that office (Feb-Dec 1868, and 1874-80).
On the surface, Disraeli and Victoria made for an odd couple. Disraeli was totally unlike his predecessors – a novelist of Jewish descent, without the aristocratic lineage or elite education typical of the British statesman. Deprived of these valuable assets, and encumbered for much of his career by embarrassing debts and a dubious reputation, Disraeli memorably likened his tortuous ascent to the premiership to climbing a 'greasy pole'. Victoria, for her part, had retreated from the world into stern and unbending widowhood after the death of her husband Prince Albert in 1861.
Look closer, however, and the success of their partnership seems almost inevitable. Monarchy possessed special appeal for Disraeli, who had a magpie's fascination with glitter and glamour and a life-long interest in celebrity, making intimacy with the Queen the summit of his social ambition. Power acted as a spur to his imagination: travelling through the Ottoman Empire in 1830, he stayed at the court of a grand vizier and was thrilled to be 'made much of by a man who was daily decapitating half the province'. To be closeted with majesty satisfied like nothing else his heady ambition to 'sway the race that sways the world'. For all this to be truly enjoyable, however, he needed an audience. He found one in the company of women, who he found more sympathetic and interesting than men; 'I live for Power and the Affections', he declared.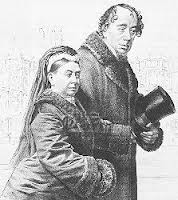 These personality traits were reflected in all Disraeli's relations with his 'Sovereign Mistress'. He wrote gossipy letters (just like his novels, Victoria noted), and flattered both their vanity by suggesting that the true seat of power was not parliament, but her tartan armchair in Balmoral. He would take care of 'smaller matters', he informed her, and seek the benefit of her 'rare and choice experience' in all 'the great affairs of state'. Nowhere was this genius for projection more apparent than in Disraeli's habit of addressing Victoria – so small and stout that in her official photographs she was made to stand on a box and had her double chin discreetly trimmed in the dark-room – as a 'Faerie Queen'. This was a reference to Edmund Spenser's romantic tribute to Elizabeth I in his sixteenth-century poem of the same name, and allowed the septuagenarian Disraeli to pose as a chivalrous knight in Victoria's service.
Victoria was receptive to this avalanche of affection. Since Albert's death she had felt harassed by politicians intent on forcing her out of her widowed seclusion (especially Gladstone, whose earnest appeals as Prime Minister over 1868-74 repelled her). More than that, she was simply lonely. Cloistered at court and with her brood of nine children marrying off, she confessed her need for a devoted friend. In Disraeli, Victoria found a Prime Minister 'full of poetry, romance and chivalry' (as she wrote in 1868), and who claimed to treat her wishes as commands 'delightful to obey'. In his combination of exoticism and frank friendliness Disraeli played a similar role to John Brown, her rough Scottish servant, in breaking the suffocating decorum of the court and drawing out the woman behind the veil.
Disraeli and Victoria had much in common, not least a shared admiration for Albert. Disraeli's sentiment was genuine, but he knew how to play on Victoria's sympathies in the elevated key she appreciated, telling her that he could not think of 'that gifted being' without emotion. By his second premiership Disraeli too was a widower, and sympathy was cemented by shared suffering. Both relished a temporary retreat into romantic nature, Disraeli strutting with his peacocks in Buckinghamshire and Victoria brushing with peasants in the Scottish Highlands. Disraeli greeted the Queen's annual gift of spring flowers in this spirit, writing that he liked 'primroses so much better for their being wild: they seem an offering from the fauns and dryads of the woods'. Most importantly, both shared a strong sense of destiny and the conviction that they were best-placed to understand the real interests of the country, Disraeli by virtue of his heroic qualities as man of genius, Victoria by virtue of her constitutional position. The success of their relationship derived from the fact that it served deep-rooted emotional needs in both.
After his death on 19 April 1881, Disraeli bequeathed two immediate and accidental legacies to his successor and Liberal rival, William Gladstone. One was a sovereign whose self-confidence and self-importance, much depressed by Albert's overweening influence in life and death, had now been re-inflated. Gladstone, who enjoyed little personal chemistry with Victoria and of whose sanity she was unconvinced, suffered a barrage of querulous royal criticism, reporting that, 'the Queen is enough to kill anyone'.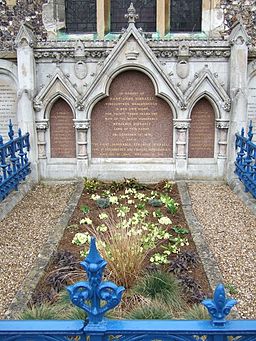 Disraeli's second legacy was more ambiguous: a Conservative party Gladstone believed to have abandoned its role as a guarantor against 'dangerous and excessive innovation' and which now depended 'on influencing public passion.' One symptom of this, as Gladstone perceived it, was the cult that had rapidly grown up around Disraeli's memory and, taking its cue from the Queen, found its expression in two innovations: the Primrose League and 'Primrose Day'. The former, founded in 1883, claimed to represent the 'transformation into political energy' of the emotions aroused by Disraeli's career and death. By 1891 it had over one million members, and became the largest popular political organisation of the nineteenth century. There is considerable irony in this development, for Disraeli had always sneered at populism and, according to his intimate Lord Derby, had an 'odd dislike' for the middle classes – precisely those who were so prominent in organising the League's tea-parties, bazaars, and entertainments. Nor would he have been particularly enamoured of 'Primrose Day', which fell on the anniversary of his death, and for decades was marked by an orgy of primrose tributes around the country: dramatic arrangements were laid at the base of his public memorials, and primroses were worn as buttonholes and in hats, as garlands, necklaces and even girdles. Gladstone's private secretary derided this 'sentimental hobby' as 'inappropriate and un-English', and Disraeli would have agreed. He felt keenly his dignity as a statesman, and would have shuddered at the vulgarity of it all. Nonetheless, having spent his life believing he was a national leader of unique insight, he would have been delighted with his posthumous recognition as such.
And what of the primrose? Anticipating the first 'Primrose Day' in 1882, the Daily News thought it a strangely commonplace symbol of Disraeli's genius, suggesting that a 'strange and gorgeous tropical plant, which only blossoms once in a hundred years, some blossom of piercing and pungent colour' would be more appropriate. It is hard to disagree.
Visit the 10 Downing Street Garden
This June the Downing Street garden joins more than 200 private, hidden and little-known gardens which are opening to the public as part of Open Garden Squares Weekend.
The tours will take place at 11 am and 2 pm on Saturday 8 June, and there will be 20 people on each tour. Places on the tour are allocated by a random ballot.
Copyright Tom Crewe. This article was produced as part of the No10 Guest Historian series, coordinated by History & Policy.
Keep tabs on the past: sign up for our email alerts