The First World War changed women's lives in profound ways as they entered occupations previously reserved for men. Mrs Edith Smith was one such pioneer. She was the first woman to be sworn in as a police constable with official powers of arrest in Grantham, Lincolnshire, in December 1915.
Across the UK around 4000 women took on a policing function as voluntary patrols, aiming to ensure orderly behaviour in parks, railways stations and other public spaces. Others were employed by the Ministry of Munitions to supervise women workers in the munitions factories. Smith's role was important because she had the same powers as an ordinary policeman, was employed as a member of the local police force, and was answerable to the Chief Constable.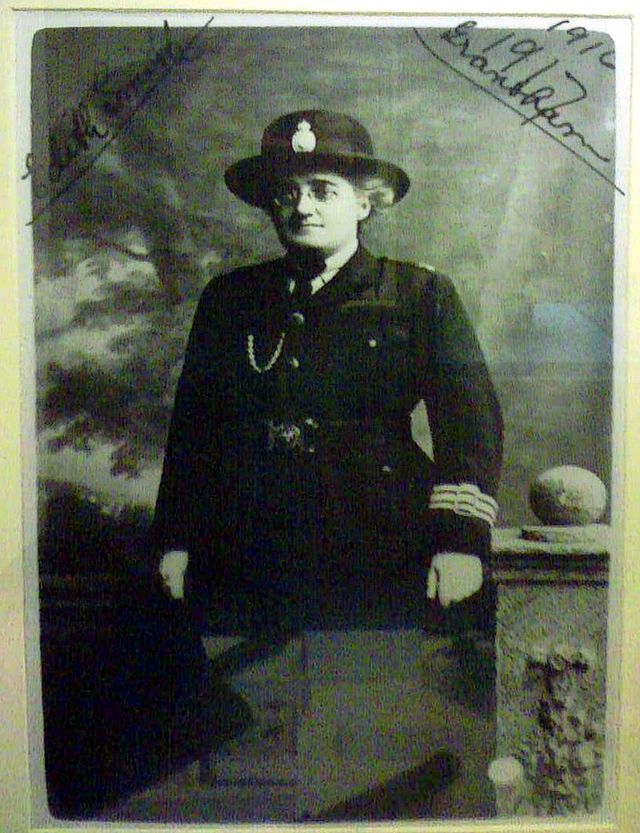 Criticisms and controversies
Yet Edith Smith's appointment was controversial. The Home Office advised that women could not be sworn in because they did not count as 'proper persons' in the eyes of the law. It had long been established that they could not vote in parliamentary elections or serve on juries for the same reason. In Grantham, however, the Chief Constable and Watch Committee continued to give Smith their full support because they thought her work was vital given the very particular problems that the town faced as a result of war conditions.
If Edith Smith's appointment annoyed those who opposed women's rights, her work was also controversial within feminist quarters. In the years before the war, suffragettes such as Nina Boyle of the Women's Freedom League had argued that women police were needed so that female victims of crime might receive fair and sensitive treatment in courts and police stations. However, the Annual Report that Smith wrote at the end of her first year suggests that her work focused on the regulation and control of the 'prostitutes' and 'frivolous girls' who flocked through the streets of Grantham at night attracted by thousands of servicemen stationed in the town's two army camps.
This phenomenon of 'khaki fever' had cemented the argument for the deployment of women police. Smith ensured that young women who engaged in 'unseemly conduct' were placed on a 'Black List' and barred from the town's theatres and cinemas. A total of 100 'wayward girls' and 50 'prostitutes' were cautioned, whilst a further 40 women were convicted of prostitution-related offences by the town's magistrates as a result of her work. The Annual Report states that 'fallen women' had left town because 'the policewoman was such a nuisance'.
Smith also provided information for 'husbands placing their wives under observation during their absence', effectively acting as an official spy for servicemen concerned about spousal fidelity. It was this emphasis on the moral regulation and oppressive surveillance of women that led other feminists, such as Boyle, to sever their ties from the movement to promote the employment of policewomen.
An 'outstanding personality'
Edith Smith was undoubtedly successful in what she set out to do in Grantham. Dorothy Peto, another pioneer (who headed up the Metropolitan Women Police Branch in the 1930s-40s), described her as 'of outstanding personality, fearless, motherly and adaptable'. A widow and former midwife, Smith would approach couples who were lying on the grass in the park and 'addressing them with motherly frankness, she pointed out the dangers of the situation and appealed to their chivalry for the protection of the girls'. There were very real concerns about venereal disease, given that effective cures were only just emerging, during the First World War. Similarly the stigma associated with births outside of marriage left single mothers in vulnerable positions, with the workhouse often the only option. Edith Smith knew this and she worked with hostel workers and health visitors to enable better support. Edith Smith's actions were both understandable and brave in the context of the First World War.
In 1918, after the conclusion of war, women gained the parliamentary vote for the first time if they were over 30 and householders or the wives of householders. Of equal significance was the 1919 Sex Disqualification (Removal) Act. This stated that a person could not be 'disqualified by sex or marriage from the exercise of any public function'. The Baird Committee of 1920, which looked at employment of women on police duties, agreed there was no longer a legal justification for excluding women. Yet it also stated that the duties performed by women should be restricted to those involving females and child victims or complainants and that it was up to local police authorities to decide whether women were needed in their area.
Edith Smith's legacy
The appointment of the first female police officer in 1915 was undoubtedly an important precedent. It enabled women to show that they could undertake a policing role effectively and professionally. Yet the specialist nature of Edith Smith's duties – in effect morally regulating women and girls – meant that the argument was won on the grounds not of equality but of difference. Women's police work was defined from the outset as separate and distinct from that of policemen. This approach continued to structure and shape their role until the Sex Discrimination and Equal Pay Acts of the 1970s, when women were finally admitted to policing on the same pay, terms and conditions as men.
Further Reading
Clive Emsley (2010) The Great British Bobby. A History of British Policing from the C18th to the Present (Quercus).
Joan Lock (1st edn 1979) The British Policewoman. Her Story (Robert Hale).
Louise A. Jackson (2006) Women Police: Gender, Welfare and Surveillance in the Twentieth Century (Manchester University Press).
Copyright Dr Louise A Jackson. This article was produced as part of the No10 Guest Historian series, coordinated by History & Policy.
Keep tabs on the past.Sign up for our email alerts.