Lord Butler was Cabinet Secretary between 1988 and 1998, working with two Conservative Prime Ministers - Margaret Thatcher and John Major - and, after Labour's 1997 landslide victory,  Tony Blair.
In this interview with historian Anthony Seldon, he talks about the bombing of the Grand Hotel, Brighton in 1984 and the IRA mortar attack on Downing Street in 1991.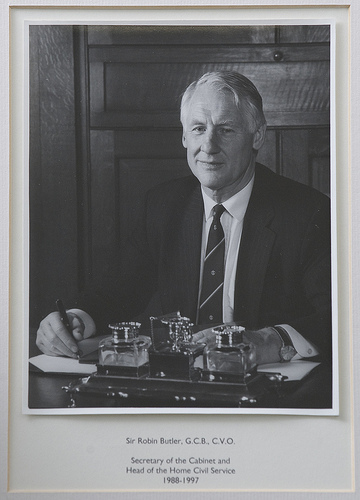 Lord Butler biography
The Rt Hon Lord Butler of Brockwell, KG, GCB, CVO, PC entered the Civil Service in 1961.
He was Cabinet Secretary and Head of the Home Civil Service from 1988 until 1998 during the Premierships of Margaret Thatcher, John Major and Tony Blair.
He was Private Secretary to Edward Heath between 1972 and 1974, to Harold Wilson between 1974 and 1975, Principal Private Secretary to Margaret Thatcher between 1982 and 1985, and Second Permanent Secretary to the Treasury between 1985 and 1987.
Former Cabinet Secretaries
View the photos of other former Cabinet Secretaries in our Flickr gallery.
Other relevant posts
Living above the shop: Margaret Thatcher at Downing Street
Thatcher and the glass ceiling
Margaret Thatcher and the Joint Intelligence Committee
About Cabinet Confidential
The Cabinet Confidential series was funded by Queen Mary, University of London's Centre for Public Engagement. It was produced by academics and students from the Mile End Group, Queen Mary's forum for government and politics, in partnership with Mile End Films the University's in-house production unit.