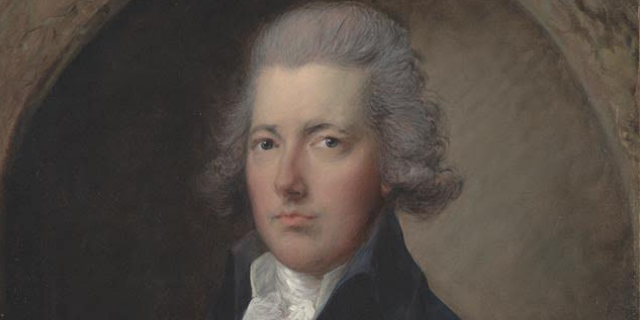 William Pitt (the younger) was born on 28 May 1759 at Hayes Place, Kent, the second son of William Pitt (the elder), later 1st Earl of Chatham and himself Prime Minister. He matriculated at Pembroke College, Cambridge at the age of 14, and later proceeded to Lincoln's Inn to study law. Unable to afford the expense of standing for Parliament (his finances remained a source of insecurity throughout his life), he was only able to embark on a political career through the influence of Sir James Lowther, who secured his election as MP for Appleby in 1781.
Not a royal puppet
In 1782 he was appointed Chancellor of the Exchequer (then a relatively minor post) in Lord Shelburne's administration. When, in December 1783, George III dismissed the Fox-North ministry that had succeeded Shelburne's government, it was to the 24-year-old Pitt that the king turned to serve as both Prime Minister and Chancellor, endorsed by the outcome of a general election held early in 1784, which belied opponents' characterisations of the youthful premier as a royal puppet. The election also buttressed Pitt's preferred stance as an independent politician by freeing him from association with Lowther: Pitt won the University of Cambridge's seat in the House of Commons.
A new model of leadership
If Pitt's political fortunes would be determined in part by the impact of events such as the French Revolution and Wars, and George III's mental illness (the Regency Crisis of 1788-9 threatened to favour the Prince of Wales' political associates at Pitt's expense), his early years as premier evidenced a determined commitment to reform of the British state. He offered in some ways a new 'reformist' model of active, pragmatic prime ministerial leadership followed by many of the most significant political figures of the next half century of varying party allegiances (fittingly, since although often described posthumously as a Tory, Pitt would have understood himself as within a Whig tradition).
Many of his initiatives stalled or were only partial successes. An attempt at limited parliamentary reform was abandoned after a parliamentary defeat in 1785; he addressed the British governing relationship with both India and Ireland with mixed results. It was partly at Pitt's prompting that William Wilberforce took up the issue of the slave trade. Among his most striking initiatives were financial and administrative reforms with an eye to efficiency and the elimination of corrupt practices, and a serious attempt to reduce the national debt through the creation of a sinking fund in 1786.
In the wake of the French Revolution
The second half of Pitt's ministry, however, was dominated by the consequences of the French Revolution and the outbreak of war with France in 1793, after he expelled the French ambassador following the execution of Louis XVI. Although claims of a Pittite 'reign of terror' in response to domestic radicalism were exaggerations, Pitt offered a clear and unequivocal defence of the established order to those who rallied to him during the 1790s. This included a substantial section of the Whig party led by the Duke of Portland, leaving only a rump in opposition led by Pitt's long-time opponent, Charles James Fox.
The wartime situation made it more difficult for Pitt to pursue his administrative reforms and also made significant financial retrenchment impossible: Pitt was forced into a series of expedients to raise the vast sums necessary to sustain the war effort, including in 1799 Britain's first income tax. The international context also made a resolution of Irish issues more pressing. Following the rebellion of 1798,arose the Act of Union of 1800, a major triumph for Pitt, which saw the United Kingdom of Britain and Ireland come into being on 1 January 1801.
'Oh my country! How I leave my country!'
Pitt believed the Act of Union required as a corollary the admission of Catholics to Parliament, but found himself opposed both by Cabinet colleagues and more importantly the King, who saw this as incompatible with his coronation oath. The impasse led to Pitt's stepping down as Prime Minister on 14 March 1801.
He remained in partial political retirement until the war renewed with France in 1803, and in May 1804 though physically failing – exhausted, ill and possibly affected by excessive drinking – returned to head a second ministry, weaker in its basis than his first. Nelson's victory at Trafalgar in 1805 proved a welcome and rare moment of success in Pitt's continental war strategy, but the exhausted premier had to witness Napoleon's decisive victory at Austerlitz before he died on 23 January 1806 at his house on Putney Heath, reportedly exclaiming on his deathbed 'Oh my country! How I leave my country!'
Born

28 May 1759, Hayes Place, near Hayes, Kent

Died

23 January 1806, Putney Heath, London

Dates in office

1783 to 1801, 1804 to 1806

Political party

Began as a Whig, regarded as a Tory by opponents at the time of his death

Interesting facts

He was Britain's youngest ever Prime Minister, entering office at the age of 24.

He fought a duel 27 May 1798 on Putney Heath against George Tierney, a Foxite MP. Pitt wrote to his mother; "….The business concluded without anything unpleasant to either Party".

He introduced the first Income Tax in Britain in 1799.

Further Reading

The younger Pitt (Vol. 1): The years of acclaim, John Ehrman (London, Constable 1969)

The younger Pitt (Vol.2): The reluctant transition, John Ehrman (London, Constable 1983)

The younger Pitt (Vol.3): The consuming struggle, John Ehrman (London, Constable 1996)

William Pitt the Younger: A Biography, William Hague (London, Harper Perennial, 2005)
Copyright Professor Arthur Burns. This article was produced as part of the No10 Guest Historian series, coordinated by History & Policy.
Keep tabs on the past. Sign up for our email alerts.