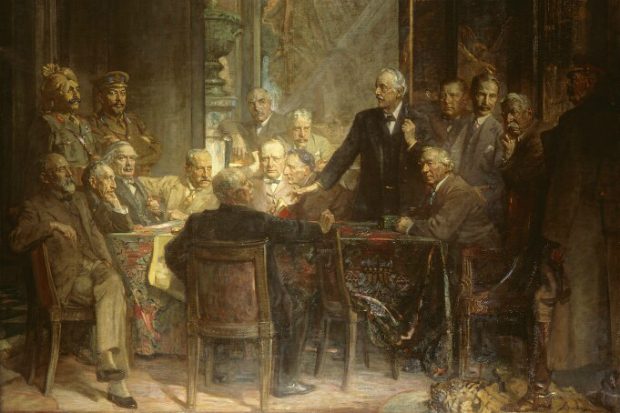 On the day Sir Edward Grey received the seals of office from Edward VII – 11 December 1905 - a dense fog hung over London. It was so thick that Grey had to use the pavement kerb to feel his way from Buckingham Palace to the Foreign Office.
Eleven years to the day Grey was back at the Palace to relinquish his office and again he was shrouded in fog—but this time, the fog of war. A century on from Grey's resignation we take a look at his final years in office.
The First World War started with something of a paradox for Grey. In the House of Commons on 3 August 1914 he made what is widely regarded as the best speech of his career setting out the case for going to war. But it was a pyrrhic victory as the war proved to be a personal catastrophe.
It is hard not to agree with Grey's biographer, Keith Robbins, that the gravest handicap Grey had during the war was his own attitude towards it. He was no Churchill who viewed it as a great adventure. 'Nothing matters now except this awful war' Grey wrote. 'None of the things that made life pleasant seem to exist anymore.'[1]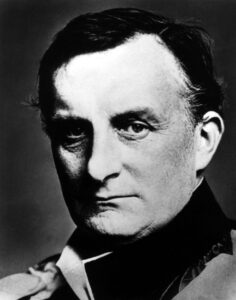 Mental strain
From the outset, the war was constantly on Grey's mind. He lay awake at night asking himself whether he could have done anything different to prevent it. The sinking of the Lusitania crept into his thoughts as he tried to enjoy the theatre. Kitchener thought him an odd fellow who felt all sorts of things that did not concern him.
The war entered his dreams. Grey woke on Christmas Eve 1914 thinking that the Germans had landed and come for him until he realised Christmas hymns were being sung outside. Disenchantment surrounded him. When on 24 June 1916 Grey became the longest continuously serving Foreign Secretary he dismissed congratulations with the minute: 'The war, though unavoidable, will always mar the memory of it.'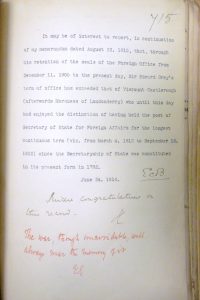 Grey had no sons but he did have close family involved, namely his brother Charlie who was wounded fighting in British East Africa and had his left arm amputated. He also had two nephews—Cecil and Adrian Graves. Cecil was taken prisoner in August 1914. Adrian was killed at the Front in April 1918; Grey thought of him as a son, and was planning to pay for him to study at Oxford after the war.
Grey was a sensitive man with a great interest in the natural world. He felt keenly the horror of the conflict. 'The accumulated misery of war makes me feel numb', he wrote 'as if my soul has gone elsewhere'.[2]
Wartime work
During the war the Foreign Office expanded into new areas of work, the biggest relating to the economic blockade of Germany. This developed in February 1916 into the Ministry of Blockade, nominally under the control of the Foreign Office, through its Minister, Lord Robert Cecil, who was also the Parliamentary Under-Secretary of State for Foreign Affairs.
This was partly a response to the fact that Grey felt both over-worked and lacked the energy or desire to deal with these aspects of wartime work. Despite being a member of the select Council of War set up by Prime Minister Asquith, Grey deliberately took a backseat on questions of strategy believing it was not his place to tell generals what to do.
Physical strain
When the war came it was coupled with the discovery that Grey's eyesight was deteriorating. He was told to restrict his reading and live a healthy lifestyle. But he could not apply this remedy until he left office, and as months turned into years his frustration grew at being trapped both in the job and in London.
Grey complained of being 'inhumanly busy' and often dozed at work. He tried to take regular breaks where his work was covered by other ministerial colleagues. In turn he asked for arrangements to be put in place for Foreign Office staff to take adequate leave adding it was essential to enable workers, however gallant and ready to sacrifice themselves, to get through without a breakdown.
A breakdown is what some suspected Grey was heading for. Asquith is recorded saying in December 1915: 'His pessimism and nerves are dreadful! I think he is off his head… It's a curious thing, but Grey had developed lately all the defects I thought he could never have! I hardly value his judgement at all now! He is so unstrung and self-enfolded'.[3]
He was held in post longer than his nerves and health could cope with it. Much of the blame here must rest with Asquith who clearly saw the strain his colleague was under but considered Grey a necessary crutch for propping up the Coalition government.
Out of office
Grey's resignation came with the fall of the Asquith government at the end of 1916. He said he felt like a man who had walked 1000 miles without rest and had at last been told he could lie down.
The new Foreign Secretary, Arthur Balfour, offered to send him papers of interest but Grey desired to know no more than the newspapers told him: knowledge was just a cause of useless worry.
Grey had started the war with a sense of duty to the country and the Liberal Party, 'to see the job through' but, of course, had no idea how long the war would last and, in the end, even duty was not enough to sustain him.
[1] Grey to Louise Creighton, 9 August 1914, MS Eng.lett.e.73, Bodleian Library.
[2] Grey to Pamela Tennant, 7 April 1918, GD510/1/60/2/33, Tennant MSS, Scottish Record Office.
[3] M. & E. Brock (eds.), Margot Asquith's Great War Diary, 1914-16 (Oxford; OUP, 2014), p. 221.