100 years ago today saw the first German airship raids on Britain when two Zeppelins attacked the coastal towns of Great Yarmouth and King's Lynn, Norfolk. In this post, Professor Edgar Jones discusses the effects of air raids over the UK during the First World War, focusing on civilian morale.
Charles Carrington, an infantry officer on leave in London on 28 January 1918, experienced a night raid by German R.VI 'Giant' bombers. He had taken his girlfriend to the Coliseum, then one of London's largest and most luxurious variety theatres. Nearby in Long Acre, a high-explosive bomb penetrated the basement of Odham's Printing Works, which was being used as a temporary shelter, killing 38 people. Londoners subjected to regular raids, Carrington observed, had become 'nervy and querulous'. On the night of 7/8 March another R.VI Giant dropped a 1000kg bomb on Warrington Crescent in Maida Vale; it destroyed four houses, killing 12 and injuring 33. Air-raids breached the traditional boundary between soldiers on the battlefield and civilians at home; they brought the conflict directly to peoples' houses, schools and workplaces; aerial bombardment was a significant element in a new era of total warfare.
Bombing campaign
Air-raids over the UK during the First World War were sporadic and relatively small scale until late 1916 when the German Air Force formed an 'England Squadron' commanded by Captain Ernest Brandenburg and designed to break the fighting spirit of the British people. A 12-month campaign, beginning with a raid on Folkestone in May 1917, saw the squadron's Gotha G.IV and R.VI Giant bombers conduct 52 raids across the country, killing 836 and wounding 1,982. These bombing missions intensified the long-range attacks delivered by Zeppelin airships – the hydrogen-filled, commercial balloons converted to carry a 2-ton payload of bombs. They also  raised the final death toll for the war to 1,413, according to official statistics published in January 1919.
Civilian casualties
The worst raid in terms of casualties took place on 13 June 1917 when 20 Gotha GI.V bombers attacked London; 162 were killed and 432 injured. Particularly traumatic was the death of schoolchildren: a bomb struck Upper North Street School in Poplar, killing 18 young children. On 7 July, a further daylight raid resulted in 57 civilian deaths, prompting public anger and newspaper reports about the lack of warning and absence of effective defences. Targeted on the civilian population rather than military sites, these aerial attacks emphasised the random quality of warfare. Out of the blue, anyone living in a town or port within range of bombers and airships could lose their life.  The outrage exhibited by many citizens (Zeppelins were described in British propaganda as 'the baby-killer') was akin to the feelings expressed by Londoners in the aftermath of the 7/7 bombings when ordinary people travelling to work were suddenly struck down without warning.
By comparison with the slaughter on the Western Front (where the average daily death rate for UK servicemen was 486), civilian deaths were very low. Indeed, they were significantly lower than the 60,595 UK citizens who died in the Second World War. Nevertheless, the impact of air-raids, particularly in 1916-17, was noteworthy in terms of the deployment of defensive measures.
Civil defence policy
Aware of the corrosive effect of the raids on civilian morale, in summer 1917 the government created a rudimentary civil defence organisation with improvised shelters and air-raid wardens issued with whistles to sound the alarm. A network of around 200 observation posts was set up, arranged in cordons from the coast. Manned initially by soldiers and later special constables, they were designed to track approaching bombers to alert defences by telephone. Anti-aircraft guns were also brought to southeast England supported by searchlights and eight fighter squadrons deployed to shoot down Zeppelins and enemy aircraft. To make targets more difficult to find in the dark, from September 1917 street lights in central London were turned off and the distinctively shaped lake in St James's Park, which served as a landmark for bomber crews, was drained.
In terms of night raids, German bombers needed fine weather and moonlight to spot their targets. High winds or rain prevented flying so in these conditions Londoners knew that they could sleep soundly in their beds. But when flying conditions were good, people living in populous, central London districts sought refuge in the Underground. By autumn 1917, 86 Tube stations had been made available as public shelters with a capacity of a quarter of a million. Rules to govern behaviour and control numbers were regulated by Special Constables. The scientist and statistician, J.B.S. Haldane, estimated that the number of civilians taking shelter in the Tube approached a peak of 300,000, whilst a further 500,000 were thought to be using basements and cellars for protection during raids.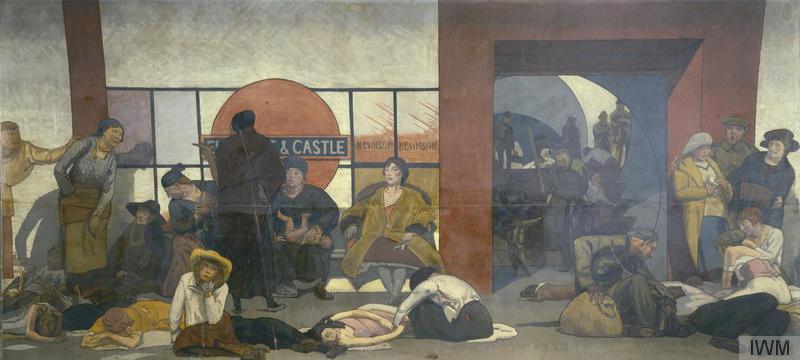 Morale of the people
The aerial campaign of 1917-18 was designed to break the morale of the British people. In this respect, it failed as there was no sustained public campaign to call the war to a halt. Nevertheless, the raids had a significant impact on behaviour.  Not only did they cause outrage, the attacks also created fear in areas of London repeatedly subjected to bombing. Without a warning system that allowed civilians sufficient time to move to shelters and delays in setting up anti-aircraft batteries and fighter defences, it took time for people to work out the risks and ways to defend themselves. After an initial period of trepidation, there is evidence that people adapted to the stress and worked out ways of coping. Lilian Clark, living in west London, wrote to her brother at the front in October 1917: 'we are thankful to have a rest from raids. I have got past the stage of being nervous. I am only anxious till the children are safe downstairs'. For most Londoners the chance of being killed or wounded was very small and those that lived in high-risk areas or types of housing that offered little protection from bombs took the precaution of sleeping in the Underground. The novelty of the raids, the use of new technology and the fact that civilians including young children had been brought directly into the firing line, heightened their effect.
Impact on future wars
Concerned by the number of civilians that had sought shelter in the Underground during the First World War, in 1924 the government set up an Air-Raid Precautions Sub-Committee of the Committee of Imperial Defence (CID).  In the belief that ordinary people who had no military training would not be able to withstand the mental and physical demands of sustained aerial bombardment, it concluded that 'the moral effect of air attack is out of all proportion to the material effect'.  Sir Maurice Hankey, Secretary of the CID, argued that victory in any future war 'will rest with that country whose people will endure bombardment the longer with greater stoicism'.  He questioned the preparedness of the general public 'who have no realisation what is in store in the event of another war on a large scale, and I am apprehensive that the full realisation would come as so great a shock that general panic would ensue'.  As a result, the primary aim of Air-Raid Precautions (ARP) services, as defined in June 1937, was not the protection of individuals and property from destruction, but 'the maintenance of the morale of the people'.  Plans were laid for some 17,000 regular troops and 20,000 reserve constables to be drafted into London to control the expected mass exodus from the capital and to prevent panic at mainline stations and entrances to the tube.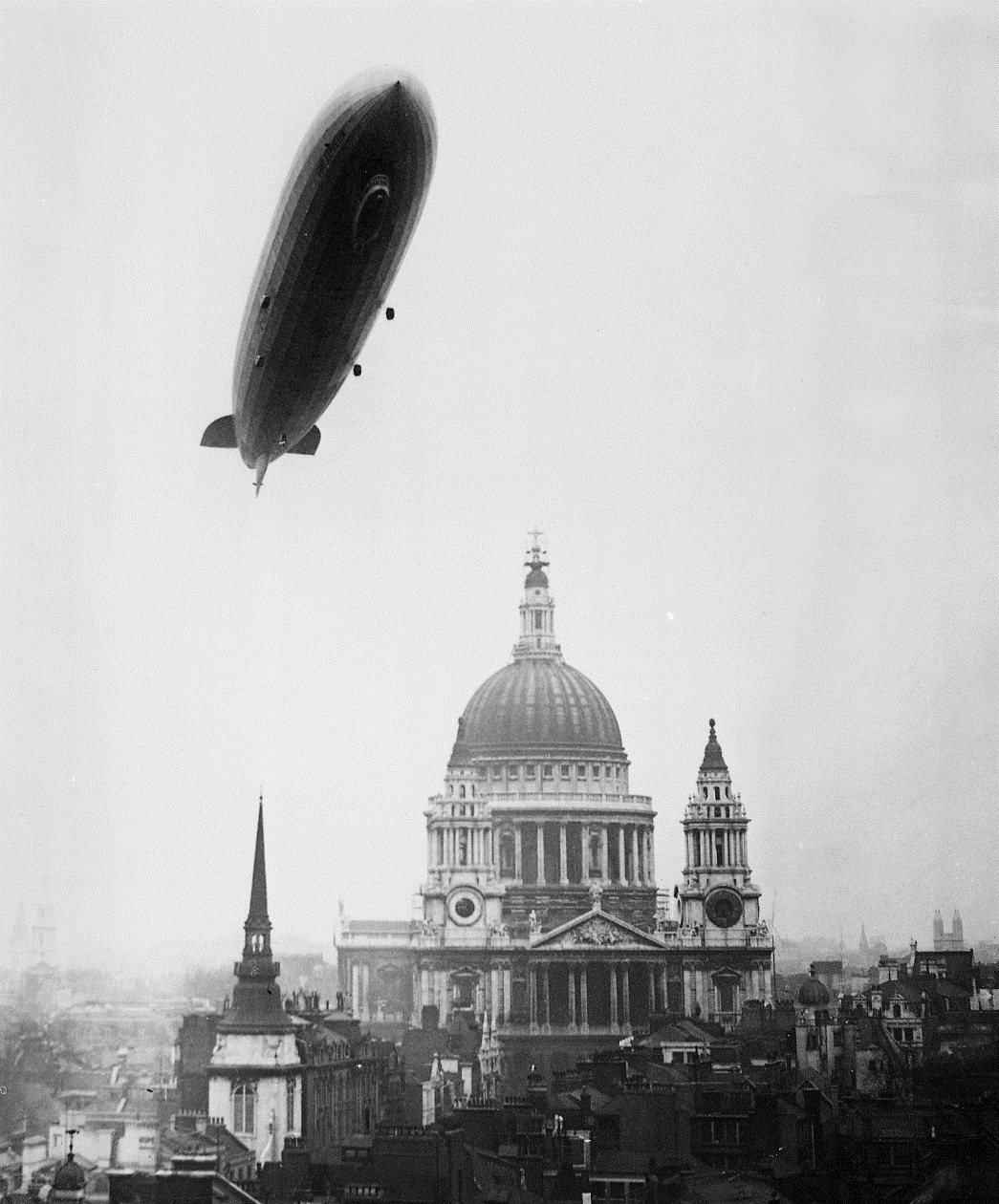 'Precautionary principle'
Today, with the enduring threat of terrorist attacks, government planners often repeat these arguments as they attempt to predict how the general public will behave in the event of a major incident. The so-called 'precautionary principle', roughly translated as being 'better safe than sorry', tends towards caution and preventative measures. The 'Go in, Stay in, Tune in' leaflet issued by the Home Office in summer 2004 encouraged people to seek shelter and listen to the radio for information if confronted with any kind of disaster, whether it be the result of terrorist attack, flood, chemical spills or even heavy snow. However, in attempting to minimize risk, precautions may inadvertently serve to weaken society's natural bonds and, in turn, foster anxious and avoidant behaviour. Evidence from both world wars is that people are in fact adaptable and often able to cope in times of crisis.
Link to the Imperial War Museum image of civilians taking cover in a tube station by Walter Bayes
Keep tabs on the past. Sign up for our email alerts.
Copyright Edgar Jones. This article was produced as part of the No10 Guest Historian series, coordinated by History & Policy.