'The sentence was such that it almost became a question of honour to challenge it . . . like a POW, I had a duty to escape.'[1]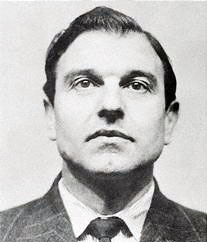 'Double Agent breaks out of jail'
On 11 November 2016, George Blake, the great survivor of those who spied for the Soviet Union against Britain in the early Cold War years, will celebrate his 94th birthday in Russia, where he is hailed as a hero. Fifty years ago, on 22 October 1966, after serving 5 years of a 42-year sentence, he scaled the wall of Wormwood Scrubs prison on a ladder made from knitting needles.
Blake was helped over the wall and hidden by Irishman Sean Bourke, who was sentenced to 7 years in 1961 for sending a bomb in a biscuit tin to a policeman. Then Michael Randle and Pat Pottle, anti-nuclear campaigners who had spent a short time in Wormwood Scrubs with Blake and saw him as a fellow political prisoner, organized his onward journey. Just before Christmas 1966 Randle, with his wife and children, concealed Blake under the seats in the back of their campervan and drove him across the Channel to an East German border checkpoint. His KGB controller, Sergei Kondrashev, then arranged Blake's onward journey to Moscow.
Codenamed DIOMID
An officer in the Secret Intelligence Service (SIS, or MI6) who had been captured by North Korean soldiers in 1950, Blake returned from captivity to work for Soviet as well as British intelligence, betraying many agents who were later executed, including a network in East Germany, as well as informing the Soviet authorities of the existence of the Anglo-American listening tunnel under Berlin.
Arrested following intelligence received from a Polish defector, Blake's sentencing in May 1961 led to the appointment of the Radcliffe Committee on Security Procedures in the Public Service.[2] According to the official history of MI5, Moscow Centre considered Blake—codenamed DIOMID—so important that only his controller had been permitted to know his real identity or that he was an SIS officer.[3]
As the existence of SIS was not avowed officially in 1966, on his escape Blake could not be identified in this way in Parliament or the British press, though the foreign media were less reticent. Blake's escape received sensational media coverage and caused a good deal of public, as well as official alarm.
Initially it was assumed that he had been 'sprung' by Soviet or Eastern Bloc authorities (Special Branch even received a tip off that he was being smuggled out of the country in an instrument case belong to a harpist with the Czechoslovakia State Orchestra). But the evidence suggests arrangements were made by Blake himself, with considerable assistance from sympathetic fellow-inmates in Wormwood Scrubs, where he had been a model prisoner, helping with literacy classes. The prison authorities, however, had considered him a 'unique prisoner not to be trusted'; according to the Deputy Governor, 'This man must always be under the closest supervision. He is a security risk in every sense of the word, caution always'.[4]
'A pattern of wet impotence'[5]
Blake's escape was a cause of embarrassment as well as alarm, not least for Home Secretary Roy Jenkins. It was the latest in what seemed like a long list of high-profile escapes on Jenkins' watch, including Great Train Robbers Charlie Wilson and Ronnie Biggs in 1964 and 1965; 13 prisoners with violent records who escaped on 25 June 1966 while being moved from Winchester to Parkhurst; and 6 prisoners from Blake's own wing of Wormwood Scrubs, whose escape on 5 June had led to tightened security.
Jenkins' tenure as Home Secretary had produced a notable series of liberalising legislation, for which he faced much criticism from the Conservative Opposition, and also from the Metropolitan Police because of his refusal to restore the death penalty, abolition of corporal punishment in prisons and his call for the recruitment of black police officers. The shooting of three policemen in Shepherd's Bush on 12 August 1966 increased press hysteria.
An effective Parliamentary performance by Jenkins, and a weak one by Edward Heath meant the government defeated a motion of censure easily and also won subsequent votes on capital punishment and a Criminal Justice Bill; just before, as Jenkins points out in his memoirs, 10 more prisoners escaped from prison in December 1966, including Frank Mitchell, the 'Mad Axeman'. 'My nerve', Jenkins admits, 'was a bit shaken'.[6]
A legacy of spies
For Harold Wilson's Labour Government, the Blake case was part of a much bigger legacy of espionage cases inherited from his Conservative predecessors. In the early 1960s Prime Minister Harold Macmillan had been faced with a series of espionage cases, including the Portland Spy Case in 1961, when Ethel Gee and Harry Houghton, their Soviet controller 'Gordon Lonsdale' (Konon Molody) and spies 'Peter and Helen Kroger' (Morris and Lona Cohen) were convicted of spying; Blake; John Vassall, a clerk in the Admiralty arrested in September 1962; and the defection of Kim Philby, one of the Cambridge spies, in 1963. In addition, the Director General of MI5, Roger Hollis, told Macmillan in the spring of 1963 that his deputy, Graham Mitchell, was under investigation as a Soviet penetration agent; an investigation that, like the subsequent suspicion of Hollis himself, proved groundless.
All this caused a major headache for Macmillan, so that the Profumo affair in 1963—which looked like, but was not an espionage case—was the last straw and a major factor in the Prime Minister's resignation. At the same time, there was increasing evidence of Soviet espionage activity within the UK, a problem that was to grow during the 1960s and culminate in the mass expulsion of Soviet intelligence officers in 1971.
For the Wilson Government, taking office in 1964 meant taking on the management of imprisoned spies and ongoing cases, as well as tackling the Soviets about their 'unacceptable activities'; an unwelcome legacy, particularly as there was initially a great deal of Labour suspicion of the security and intelligence services. In this context, the escape of George Blake seemed sinister as well as alarming. There is still a lot we do not know about Blake, despite the publication of his memoirs. When Randle and Pottle published their book about the escape in 1990, the press called it a 'Boy's Own Yarn that came true'; but neither Blake's career, nor his escape, was a laughing matter.
Further Reading (in addition to footnotes)
George Blake, No Other Choice (London: Jonathan Cape, 1990)
Sean Bourke, The Springing of George Blake (London: Mayflower Books, 1971)
David Murphy, Sergei Kondrashev and George Bailey, Battleground Berlin: CIA vs KGB in the Cold War (Yale University Press, 1997)
Michael Randle and Pat Pottle, The Blake Escape London: Harrap Books, 1990)
Dominic Sandbrook, White Heat: A History of Britain in the Swinging Sixties (London: Abacus, 2009)
[1] 1 Blake, quoted in Roger Hermiston, The Greatest Traitor: The Secret Lives of Agent George Blake (London: Aurum Press, 2013), p. 273.
[2] Parts of the Radcliffe Committee's Report, recommending improvements in security and combating Communist penetration in government services, were published as a White Paper in April 1962 (Cmd 1681), though not the section referring to Blake's case. Files relating to the Committee are also available at The National Archives (TNA).
[3] Christopher Andrew, The Defence of the Realm: The Authorized History of MI5 (London: Penguin, 2009), p. 48.
[4] Hermiston, p. 265.
[5] Roy Jenkins, A Life at the Centre (London: Politics edn, 2006, p. 201).
[6] Jenkins, p. 204.
Keep tabs on the past. Sign up for our email alerts.